North Library
●Open / Shortening open / Closed |●Library Hours|
●Floor Guide|●How to Use
●Open / Shortening open / Closed
North library is open except following days.
Closed schedule may be changed. For datails, please check library calender.
Link : Library Calander
Closed
Saturday and Sunday during Campus Festival(Early June)
Planned Power Outage(Sep)
28 December to 3 January
National Center Exam for University
Shortening open
Spring Vacation(March to early April)
Weekdays during Campus Festival(Early June)
Summer Vacation(Mid August to Late Sep)
Winter Break
●

Library Hours
Open Hours (Open stack Reading Rooms)
Mon - Fri : 8:00 - 22:00 ※For non-member of Hokkaido University, the library will open at 9:00 a. m.
Sat / Sun / Holidays : 9:00 - 19:00
Mon - Fri [Shortening open]:9:00 - 17:00
Sat / Sun / Holidays [Shortening open]:9:00 - 17:00
Sat / Sun / Holidays [during examination periods]:9:00 - 22:00
Stack Room
Mon - Fri : 9:00 - 20:00
Sat / Sun / Holidays : 9:00 - 18:30
Mon - Fri [Shortening open]:9:00 - 16:40
Sat / Sun / Holidays [Shortening open]:9:00 - 16:30
Sat / Sun / Holidays [during examination periods]:9:00 - 20:00
Borrowing & Renewing
Until 10 minutes before closing
Library Card Application (Will be mailed to non-university personnel)
Mon - Fri : 9:00 - 17:00 (Application only 17:00 - 21:00)
Sat / Sun / Holidays : Application only
Mon - Fri [Shortening open]:9:00 - 16:00
Sat / Sun / Holidays [Shortening open]:Application only
Sat / Sun / Holidays [during examination periods]:Application only
Group Study Rooms
Until 30 minutes before closing
Multimedia Room
Mon - Fri : 8:00 - 21:30 ※For non-member of Hokkaido University, the library will open at 9:00 a. m.
Sat / Sun / Holidays : 9:00 - 19:00
Mon - Fri [Shortening open]:9:00 - 17:00
Sat / Sun / Holidays [Shortening open]:9:00 - 17:00
Sat / Sun / Holidays [during examination periods]:9:00 - 21:30
●

North library Floor Guide
---
4F East Building
Reading Room / Group Study Room A&B / Silent Room
※For University Member only
(For Group Study Rooms, please use with University Members)
4F West Building
Reading Room(Study Floor)
※For University Member only
---
3F East building
Reading Room / Group Study Room C
Humanities and Social Sciences(Call Number: 000~399, 700~999)
Reference books(Languages, Humanities and Social Sciences)
Large-sized books / Lane Memorial Collection
3F West building
Reading room / Language laboratory / Study Abroad Information Area / ELMS-PCs
(Gaikokugo-Tadoku-Kyouzai)Graded English Readers
Language study(Call Number: 400~499)
Language materials(CD)
Books on Japanese Culture
MANGA
---
2F East Building
General counter / Entrance to closed stacks(Link:Map of closed stacks) / Reading Room / Entrance to multimedia education building / Book Drop
Science and Technology ; Call Number : 500~699
Reference books (Languages, science and technology)
Year books / White papers / News papers / Current Journals / Pocket books
Reserved books for some classes(include "Modern Japanese Studies Program") / Academic skills
2F Multimedia room
Group Study Room D / Audio-Visual Materials(available in library only)/ Copy machine / ELMS-PCs
2F West building
Active learning floor / ELMS-PCs / Seminar room
---
1F
Main entrance / Book Drop / Lobby(You can eat and drink on this floor) / Office
---
●

How to use North Library

To enter the library 《2F East building》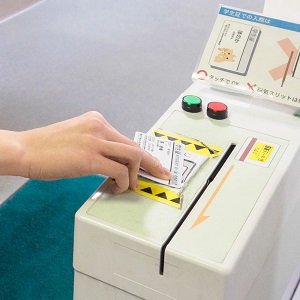 Insert the magnet strip of the library card /non-IC student ID card into the slot and run through it in order to pass through gates.
If you have a IC student identification card/IC University ID card put it the designated location in order to pass through gates.
If you don't have ID please show the following link and checking steps to use.
Link:For Visitors
---
Searching books 《2F East building》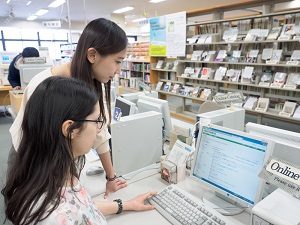 There is a total of 4 million books in Hokkaido university. First, you can search where is the book you want to read with Hokkaido University Library Catalog.
Link:Hokkaido University Library Catalog
You can use Hokkaido University Library Catalog with the PCs in the library, also with your own smartphone or PC.
---
To borrow a book《2F East building》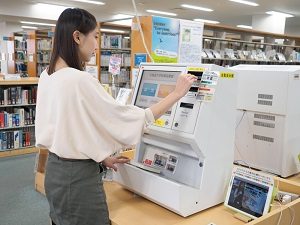 You can check-out a book with self checkout machine.
Make sure the face with the bar code printed "北海道大学" on top.
You can return the book at counter or book drop.
---
Read the world news 《2F East buiding》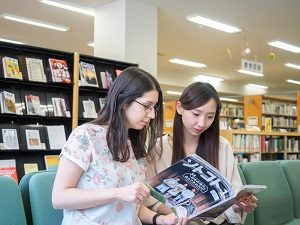 Several Newspapers and current journals (not only academic ones but also recreational ones) are available.
Some of them are written in English.
---
For writing a report or watching a movie 《Multimedia room; 2F East building》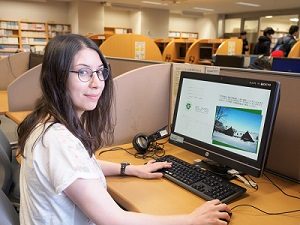 The entrance of multimedia room is on the right side of entrance gate.
In the multimedia room, you can use ELMS-PCs and Copy machine (can print out your PDF file on USB flash memory).
Such a nice place to write your report !
ELMS-PCs are also available on the 2nd or 3rd floors of West building.
For detail to use PC, check the following link.
link:Use of PC
In addition, You can watch movies or documentary films here.
---
To concentrate on study 《2F to 4F East building》 《4F West building》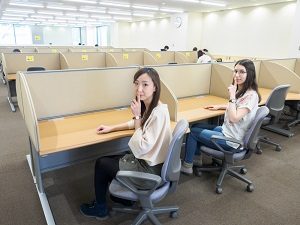 If you want to study in quiet place we recommend the 4th floor of West building (For university member only).
Reading rooms in 2F east building to 4F east building are also learning space. You can use your PC on these rooms and Wireless LAN is available in whole of library.
You can use Group Study Room by booking at a counter. For more detail, please ask at counter.
---
To study with your mates 《2F West building》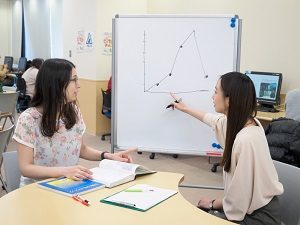 On 2F west building, you can have discussion about your learning.
You can freely use movable tables and white boards for discussion.
---
For presentation of your works 《2F West building》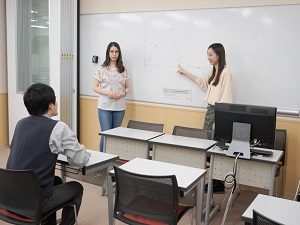 You can use facilities of the library for presentation or event for study. Exhibition and other activities are subject to negotiation. (Pre-registration is needed. For more details, please ask library staff.)
---
Study languages 《3F West building》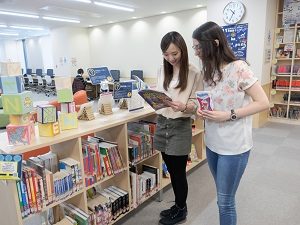 Language materials for example books on languages, graded English readers, audio CD and MANGA written in English and other languages are available on the 3rd floor of west building. Language laboratory, you can speak inside this space, is popular too. Information about study abroad is also here.
You can have discussion on this floor.
We call the method to learn English by read amount of easy English "Tadoku" (means "Read much").
Would you like to try for English Tadoku marathon ?
link :English Tadoku marathon(In Japanese only)
---
If you have any question, please feel free to ask staffs at counter.