Welcome to the Hokkaido University Library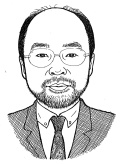 As a director, it is my great pleasure to introduce the Hokkaido University Library.
The University Library was founded in 1876 with 6,149 books. Since then, the Library has constantly and continuously expanded its collection to the point that it boasts the largest number of the collection in Hokkaido. Today, we have 4 million of book collection and 15 thousand electronic journals available, covering the complete world of scholarship and science. Here is a window open to the newest knowledge and the oldest wisdom. It is our mission to provide the University's faculty and students with comprehensive access to these materials. We hope you will enjoy library life.