Mendeley Institutional Edition
Mendeley Institutional Edition
HU Libraries now offers enhanced Mendeley access for all HU users with Mendeley Institutional Edition(Mendeley at HU).
Mendeley & Mendeley Institutional Edition
Mendeley
Mendeley is a free reference manager and academic social network that can help you organize your research, collaborate with others online, and discover the latest research:
Mendeley Official Site
What is Mendeley Institutional Edition?
Mendeley Institutional Edition is an institutional version of Mendeley with premium user features and additional institutional support.
Item
Basic Individual Free
Mendeley Institutional Edition
Personal library space
2 GB
100 GB
Shared library space
100 MB
100 GB
Private group size
(collaborators)
25
Up to 100
# of private groups
5
Unlimited
Note: This agreement is until March 2021. We will consider whether we continue in fiscal year 2020.
How can you get access to our HU subscription?

(Updated in 2018 April)
To use of the institutional edition, just log in from the network in Hokkaido University(e.g. HINES-WLAN, ELMS-PS. Notice:Eduroam is not regarded as the network in HU.).
How to use the institutional edition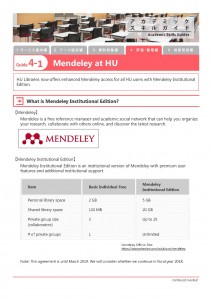 Please see also:
[Mendeley at HU (Academic Skills Guides)](PDF)
Inquiry:
Ask Library Staff
Hokkaido University Library Reference Section
TEL 011-706-2973
E-Mail ref[at]lib.hokudai.ac.jp
*please replace [at] with @