As a part of Diversity & Inclusion campaign on campus, Central Library and North Library are organizing a Book Fair with four themes.
We hope this gives each one of members in HU an opportunity to think about issues with diversity and inclusion both on campus and in society.
Date:
Monday, January 17th - Friday, March 18th
Location:
Central Library, 2F, Open Area
North Library, 2F (East Bldg.), Exhibition Space
* Selection of books may differ between Central Library & North Library.
We recommend that you visit both libraries.
Themes:
1. Gender & Sexuality
2. Diversity & Inclusion
3. Discrimination & Bias
4. Life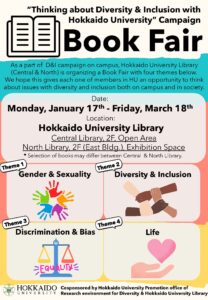 For more information about the campaign, please visit the website of the Promotion office of Research environment for Diversity.
北海道大学がダイバーシティ&インクルージョンをちょっと考える6か月 (In Japanese only)
2022/01/17 16:09