We will hold workshops on chemical information databases "SciFinder" and "Reaxys(Jp)", with which you can search substances, reactions and papers.
Please take this opportunity to master how to use both databases and use them for learning and research!
SciFinder is an essential tool for chemists, with which they can comprehensively search chemicals and reaction information in addition to papers and patents! A professional instructor will lecture on how to use it. He will also answer your daily questions.
[Click here for more information on SciFinder]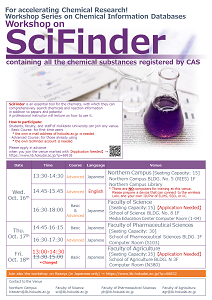 Basic Course: For first-time users
This course will explain SciFinder account creation, literature search, substance search from basic structure drawing, reaction search, and how to save the results of them. Please prepare the own e-mail address of hokudai.ac.jp
Advanced Course: For those already using
This course will focus on techniques of structural search and reaction search and explain convenient functions. Please prepare the own SciFinder account in advance.
All the students, faculty, and staff of Hokkaido University can join any venue regardless of the department.
Those who wish to participate in Science or Agriculture Venue please apply in advance from the "Apply" button below because of the limited seating.
‎

* There are no computers for training at Northern Campus Venue. Please prepare a device that can connect to the wireless LAN, and your own ID/PW of ELMS, SSO, or iiC.
** If you participate in "Basic & Advanced" course, you need create your account before workshop.
Join also the workshop on "Reaxys(Jp)" of the next week! Click here!
Contact:
Northern Campus Library, Hokkaido University
E-mail: kitacam [at] lib.hokudai.ac.jp
Faculty of Science Library, Hokkaido University
E-mail: sci [at] lib.hokudai.ac.jp
Faculty of Pharmaceutical Sciences Library, Hokkaido University
E-mail: ph [at] lib.hokudai.ac.jp
Faculty of Agriculture Library, Hokkaido University
E-mail: agr [at] lib.hokudai.ac.jp
2019/10/02 10:47
update: 2019/10/21 16:24