Mendeley training session by a professional instructor from Elsevier Japan for beginners.
What is Mendeley?
Mendeley is a reference management tool and provides academic social network. That can help to develop your research, and networking. More than 6 million Mendeley users globally.
More information about Mendeley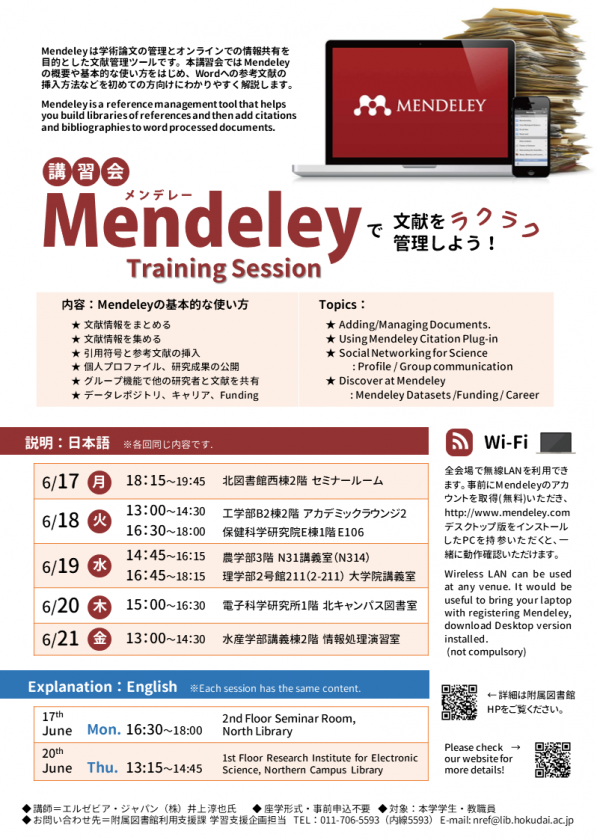 Topics
Adding/Managing Documents
Using Mendeley Citation Plug-in
Social Networking for Science:Profile/Group communication
Discover at Mendeley:Mendeley Datasets/Funding/Career
For Hokkaido University members (students and staff)


No reservations required.

Please feel free to join in.




*

Please bring your laptop to follow the instructor.
It would be useful to bring your Laptop with registering Mendeley,
download Desktop version. (not compulsory)
We also offer the same Training Session in Japanese. Click here for more details!
Contact : Library Learning and Teaching support section
TEL : 011-706-5593 (Extension number 5593)
E-mail : nref [at] lib.hokudai.ac.jp
2019/05/28 17:50
update: 2019/05/31 10:20